Procol help you raise the standard
of your working environments
Procol's 20 years' experience of dealing with everything from directors' suites to data centres, boardrooms to breakout areas, and canteens to cloakrooms has given us tremendous insight into the ways in which
office and technical environments

can either benefit your business or hold it back. We've coined the term

professional working environments

to describe the standard of environment we design, deliver and support throughout its life cycle.
Professional working environments are spaces of the highest standard
Some working environments are just very poor and clearly in need of improvement. Those that have undergone work to improve them will be better, but are often just pretty or practical. Even those that are quite productive typically miss the chance to be outstanding. Procol's approach goes further than most and delivers a higher, professional standard of office environment or technical environment.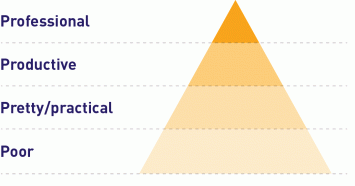 Professional working environments

propel your business
They help you to:
Increase productivity, quality and efficiency

Do more to a better standard with the same space or less

Encourage and enable useful employee interaction, improved communication and the sharing or development of ideas

Enhance employee wellbeing and motivation

Reduce the cost of heating, lighting and ventilation
Professional working environments

protect your business
They make it easier for you to:
Comply with workspace regulations and legislation now and in the future

Adapt quickly and efficiently to the need to change the size or use of space

Prevent the disruption and expense caused by avoidable technical problems or poorly specced equipment

Plan expenditure with greater confidence
Professional working environments

promote your business
They support your efforts to:
Project a better image of your business to all audiences and stakeholders

Attract better-calibre employees

Offer a more efficient or better-quality service to your clients

Be known for positive actions on issues such as sustainability, carbon emissions and disability access